Ten Simple Steps for Sellers
Ten Simple Steps To Sell Your Home For Top Dollar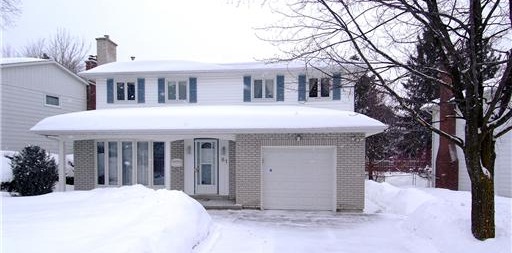 Set

The

Stage

To

Sell
1. Buyers look for a home not a house.
If you were selling a car, you would wash it, polish it, clean the floor mats and upholstery to get the highest price.
Buyers buy on emotion, not logic, so it is even more important to prepare your home for sale. On average, buyers look at twelve homes before making a buying decision, so make sure your home looks, feels and smells its best.
First impressions are critical. Here is a partial checklist for a faster sale.
Outdoors
Remove clutter, spruce up, in season trim the grass and shrubs, weed gardens and edge walks.

Straighten anything that sags - eavestroughs, the mailbox, the fence, screen door, and so on.
Paint, fix or wash railings, steps, screens and front door.
Straighten up the garage or carport to hold just cars.
Indoors
Kitchen - stove, refrigerator, microwave and sink should be sparkling clean, and all work space clear.
Bathrooms should be spotless, fresh, and equipped with new soap and neatly hung matching towels
Closets. Create a feeling of adequate storage space by removing unneeded items.
Lots of light! For maximum effect, turn every light on, even on a sunny day. Open drapes in the daytime, close them at night.
These few items are just the tip of the iceberg in relation to things that can be done to your home to make it more exciting to a prospective buyer, and sell it more quickly at a higher price.
2. Price It Right
What is the value of my home today?
Recognizing homes are bought on emotion, the price at which you offer your property for sale will play a crucial role in the success of its sale. The Appraisal Institute of Canada defines the market value of a property as "The probable price at which your property would sell for on the date of appraisal, allowing for a reasonable time to find a purchaser." No one can say exactly what a buyer will pay. You have to balance the asking price for your home between your urgency to sell and your competition. On the average, buyers view 12 homes before making a buying decision that means 11 homes are competing against yours. Three significant factors cause your home to sell: location, condition and price. The location cannot be changed. Condition can be improved fairly easily. If location and condition are fine and the home isn't selling, price is the problem!
How do I set the asking price?
Often, homeowners make the mistake of pricing their homes based on how much money they have invested into it. That they may have invested thousands of dollars on certain improvements doesn't always translate into added value to a buyer . Other sellers put themselves into a pricing box by feeling they have to net a certain unrealistic dollar amount to make their next move work.
A professional real estate agent can help you correctly price your home. Most agents offer a free market evaluation or "Comparative Market Analysis" service. This is a direct sales comparison approach that contains three important parts. First are similar homes recently sold. It will show you what people are willing to pay for your kind of home in your neighbourhood at the present time. Second are similar homes for sale now. This tells you what you are competing against. Third are homes similar to yours that were unsold in the last 90 days or more. These illustrate a problem with location, condition or price that people are not willing to pay for in your area at this time. Be very careful and weigh all the factors before you set the price for your home. A property competitively priced is half sold.
3. Maximize Exposure
How do buyers find out my home is for sale?
To obtain top dollar, your home must be regularly exposed to prospective buyers. After the for sale sign, internet and "Homes For Sale" classified, look for non­ traditional advertising methods aimed directly at your most likely buyer.
Some of these buyers may not even be thinking of buying right now, but if they knew about your home would love it. There are probably ten buyers who would love to own your home, can afford it, and would pay a fair price ... if only they knew about it!
4. Hold Open House
The secret to getting top price is to find a buyer who is a perfect match for your home. You can't expect to sell a property quickly at the top price unless you get lots of prospective buyers inside to see it. Regular, repeated Open Houses create an "Auction Effect" because of other buyers showing interest in your home at the same time. The auction effect causes people to become more excited and enthusiastic about your home, generating a sense of urgency and competition. The result is, if a buyer feels the asking price is fair and has a sense of urgency, he will pay the full asking price or very close to it.
5. Sort Out Prospects
There are four kinds of people who look at homes for sale. Serious buyers in a hurry, Serious buyers not in a hurry, Bargain hunters Casual lookers. A genuine buyer is one who is qualified financially, motivated and ready to buy. Anyone else is just a looker. Many potential buyers have a property to sell before they can buy, are not yet pre-approved in writing for a mortgage, or need to save more down payment. These are tough personal questions to ask about, where a Realtor insists on getting all the facts on a buyer's situation before working with them.
6. Attract The Best Buyer
How affordable is my home? First home buyers are more likely to pay top dollar for your home. If your home is in the first time buyer price range, make sure your marketing shows the benefits of home ownership and how affordable your property is. Provide basic information as to how much down payment is needed, mortgage payments, and how much income you must have to qualify for the financing.
7. Get a Home Inspection
Avoid unpleasant surprises! Consider having a professional pre­ sale home inspection before you put your home on the market. By being pro-active, you can identify and be aware of any water issues, structural, electrical., plumbing, heating or mechanical problems and deal with them accordingly. Home buyers want to know everything about your home inside and out. It is standard today for a buyer to request a building inspection. If you already have an inspection report, you can make it available to the buyer.
8. Choose The Right Realtor
Marketing expertise is the key. Selling your home is a very important transaction. In choosing a Realtor to represent you, the person you select can make it a satisfying and profitable experience, or leave you with a sour taste if things don't work out. In any area, 80% of the real estate is sold by 20% of the salespeople. You want one of the 20%. To find the Realtor who is right for you, you may interview several agents. Select the Realtor with the best written marketing plan for your home. Look for experience, knowledge, advice, counsel, negotiating skills and marketing expertise. On your transaction that could mean a higher price, a faster sale and a lot less stress. The choice is yours. Make your selection carefully.
9. Sell Softly!
Don't "hard sell" when showing. Remember, home buying is an emotional decision. Let buyers discover your home on their own. They are looking for their emotional response that says, "Wow, this home looks right and feels like us, we would like to live here!"
That is difficult for them to do if you follow them around pointing out all the improvements you have made. You may even create the opposite effect to what you intended by making buyers feel they are intruding into your private space. Worse, you may give the impression of being over anxious to sell and prompt a lowball offer. Resist the temptation to talk the whole time the buyer is there. Offer to be available to answer any question the buyers may have, otherwise keep out of the buyer's way .
10. Protect Yourself
Check your rights and responsibilities with a professional. Real estate law is complex. Make sure your written Agreement of Purchase and Sale is a legally binding contract. Ensure which closing costs or repairs you are responsible for, and how local zoning, utility, insurance requirements and deed restrictions may affect the transaction.