Seven Simple Steps for Buyers
How to Buy the Home You Always Wanted
Without All The Money You Thought You Needed!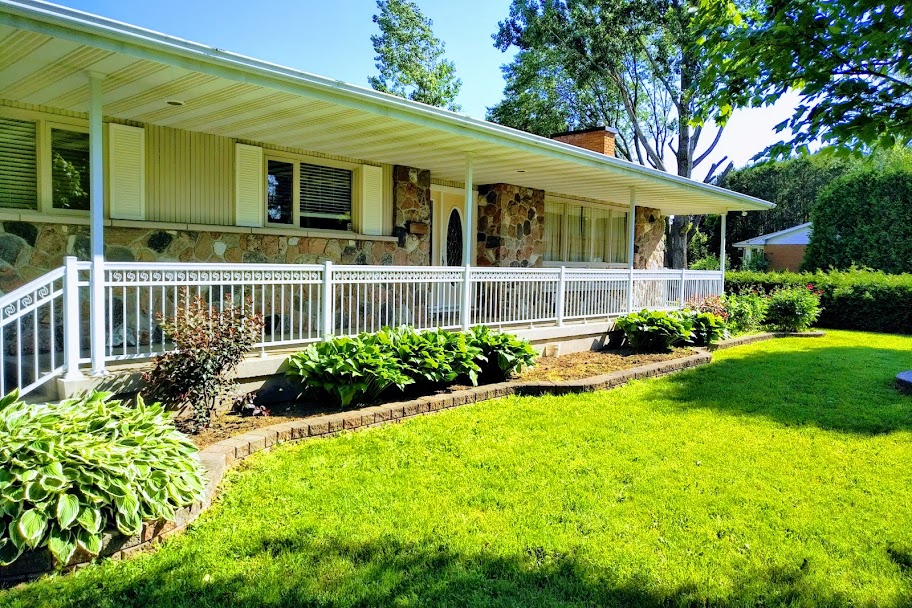 Buying a home can seem like a frightening prospect. Whether it's your first home or your fifth it's difficult to find the courage to sign on the dotted line, even if you want that home very, very badly.
How do you determine whether or not the purchase of a home makes sense?
What's the easiest way to examine the whole picture from emotions to economics
I suggest that you read this entire report before you go home hunting. You'll learn how to separate whims from true needs. You'll discover how to prepare a game plan for your real estate venture, how to research effectively, choose wisely, finance appropriately and survive the whole procedure with your smile intact.
Seven Steps for Success:
Establish what you want in a home.
Determine how much you can afford.
Get pre-qualified and pre-approved for a mortgage by a lender.
Find a good real estate professional to help you.
Find a house that best suits your requirements.
Make an offer to buy the home.
Protect your interests when making an offer to purchase.
By the time you've done your homework and completed the suggestions in this report, you will have an excellent overview of how to find and buy your dream home. And, you'll have plenty of confidence to back up your decision to buy that special home too.
Step One: Establish Your Wants and Needs In A Home
Begin your search for a perfect home by making a careful assessment of the kind of home you need and want. I recommend that you do this in writing. So take time, right now, to be as specific as you can about your particular requirements.
Ask yourself some focused questions - here are a few to jog your thinking:
What is the most important item to me in a property?
What area, community or neighbourhood do I want to live in?
Which style of home do I prefer?
How many bedrooms do I need?
How many bathrooms?
Do I want a family room or recreation room?
What type of heating do I want?
What age of home am I interested in?
How big of a lot do I want?
How many parking spaces for vehicles are required?
What special space do I need for large furniture, equipment, hobbies or pets?
What extras would be a bonus?
Of the items above, which one could I do without?
What don't I want?
How soon do I want to move in?
Visualizing what you want and committing it to writing is a very powerful step - once the picture is clear the decisions are easy.
Step Two: Determine How Much You Can Afford
Decide how much you can really afford to invest monthly for your home payment. Be realistic here. Most lenders want your payment for your mortgage and property taxes to be no more than 30% of your gross monthly income(s).
If you have other financial commitments, such as loan payments, a vehicle lease, credit cards, and so on, most lenders allow up to 40% of your gross income(s) to cover mortgage, property tax and other commitments.
The important principle here for you is your financial comfort level for payments on a home, not what is the maximum you can afford.
I, and my staff specialize in finding great, great homes to buy with a low down payment and reasonable monthly payments. And yes, if you don't have your down payment all put together yet there are several bank approved ways available to you to create a down payment or creatively finance a home purchase
Step Three: Get Pre-Qualified And Pre­ Approved For A Mortgage By A Lender.
You can save yourself a lot of time and heartache by meeting with a mortgage lender or mortgage broker before you start your search for a home.
I recommend using a Mortgage Broker rather than a Bank or Trust Company Mortgage Officer. Why?
Objectivity. I want whoever is arranging mortgages for my clients to be objective. A bank or trust company mortgage officer can only offer what his own company has in the way of mortgages. In addition, he can qualify clients based only on his own company guidelines. A good mortgage broker can offer clients a range of mortgage products and options. He can place mortgages with any number of lenders that have varying guidelines for qualification, filling the particular needs and circumstances of almost any client.
Turn Downs. If a client is turned down for some reason by one lender, he still deals with the same person. If a client is dealing with a mortgage broker, he usually won't even know he was turned down by a lender. The mortgage broker simply places the transaction with another lender. Good mortgage brokers are like good Realtors. They know their business. They know their lenders. They know how to present a mortgage application to a lender so that it will be accepted.
Cost. The services of a mortgage broker to find you a mortgage for a home to live in are usually free. The mortgage broker is paid by the lender for placing the mortgage.
A mortgage broker or lender can let you know what specific mortgage program would be best for you. They can also help you to understand what it takes to qualify for the mortgage you want.
Many brokers and lenders call this "Pre­ Qualifying a Buyer." If you would like to be certain that you can be approved for a mortgage, ask to be pre-approved. In the pre-approval process all of your documentation is completed and submitted to a lender.
The written pre-approval that you will get back is an actual mortgage commitment from a lender. It will detail the amount of mortgage you are approved for, the interest rate, and be good for 60 to 90 days. If you haven't bought during that time frame it can be extended at the prevailing interest rate when you renew. The good news is that if interest rates rise during your pre-approved mortgage commitment your interest rate is protected. If interest rates drop during your commitment period, you receive the lower interest rate. A win – win situation.
With your mortgage pre-approval in hand, you know in advance what you can afford, and you're ready and able to buy!
Step Four: Find A Good Real Estate Agent To Help You.
By finding a good real estate professional to help, you will save yourself huge amounts of time and effort.
How do you find a good Realtor? Ask questions.
You can learn a lot about a real estate professional by just letting them talk to you about how they help buyers. Within a few minutes you will probably be able to determine if you will be comfortable working with them.
When working with a Realtor, it is important to understand who the Realtor works for:
Realtors are governed by the legal concept of "agency". An agent is someone who represents another person. An agent is legally obligated to look after the best interests of the person he or she is working for. The agent must be loyal to that person, provide full disclosure, exercise reasonable care and skill, be accountable, and keep personal information confidential.
In real estate there are different forms of agency relationship, including seller's agent, buyer's agent, and dual agent.
A real estate company acting as a Buyer's Agent must do what is best for the buyer, and such relationship allows the real estate agent to:
Represent the buyer's best interests.
Give full disclosure of all pertinent facts about a property
Provide advice on negotiating strategy, give market information to enable the buyer to make an informed purchasing decision.
Prepare an offer to purchase with protection for the purchaser by inserting conditions.
Keep personal information confidential.
The decision to use the services of a Buyer's Agent is entirely up to the purchaser. If a purchaser is comfortable with having the Seller's Agent represent all parties in the transaction, then they do not need the services of a Buyer's Agent. However, if the buyer is looking for assurance that their best interests in the transaction are being taken care of, they will want a Buyer's Agent working for them.
Who pays? In most cases, the Realtor will be paid from the proceeds of the sale, so the seller pays the fees.
Written contract establishes Buyer Agency. It explains the services the Realtor will provide, spells out who will pay, and specifies what obligations a purchaser may have. Typically, a buyer will be obliged to work exclusively with that Realtor for a period of time.
Since January 1, 1995, your real estate professional must take a few minutes to discuss with you the nature of the services they offer. Before any real work is done, you will be asked to sign a widely used information pamphlet to acknowledge you've had this discussion.
Step Five: Find A Home That Best Suits Your Requirements.
Home shopping can be a delightful experience! Just tell us what kind of home you want, and our Home Finder computer system will find it for you. Each night, the Home Finder computer accesses the Ottawa-Carleton Real Estate Board Multiple Listing Service and downloads ALL the information listed in the entire area by every real estate company. Then, the computer sifts, sorts and screens every listing to match the homes that are available to your exact specifications and requirements. Then we'll call, fax or mail you the information.
As you receive information about homes you're interested in, you can study...compare ...and drive by the properties on your own, without having to deal with a real estate salesperson. When you find a home that you would like to see inside of, just pick up your phone, call us, and we'll make arrangements to let you see it at your convenience.
Five Tips for Successful Home Hunting:
Keep an organized record of all your research data. Write down comments about the homes you see. Keep track of your likes and dislikes.
Make sure your agent is aware of your time schedule and expectations. Do you like to look at one or two homes in a session? Four? Six? Discuss this with your agent.
Tell your agent about any homes you see that interest you and that you'd like to know more about. This includes homes you've discovered as you've explored and area yourself, or homes you see advertised.
If you prefer to drive around by yourself and look at homes from the outside and their settings in the neighbourhood, ask your agent for a list of drive-bys. Your agent can make appointments later to show you the interior of those that appeal to you.
Express your likes and dislikes to your agent after you look at a home. Honest communication is essential. Many buyers are shy and afraid to tell and agent what they really think of a house. They think the agent may take it personally. Remember, the homes don't belong to the agent! You must be straight forward about your likes and dislikes in order for the agent to do the best job for you.
Step Six: Make An Offer To Buy The Home.
Your real estate agent can help you make an offer to buy the home that you want. This is always done in writing. Remember it is important to know before hand who your agent represents. You will always be told- in writing­ who a Realtor is working for.
By looking at what homes are selling for in the area, and how long they are taking to sell, you should be able to judge, pretty well, what property values are.
Step Seven: Protect Your Interests When Making An Offer.
I recommend you protect your interests, desires and deposit when making an offer to purchase by inserting conditions or "subject to's" in the offer. Seek legal advice before you sign the offer, or ensure that the offer contains a clause that the terms of the agreement are subject to your lawyer's approval by a certain time and date, failing which the transaction is null and void.
You need to consult with a knowledgeable real estate professional who understands the total parameters of a real estate transaction, from agreement to zoning. A properly written agreement will protect you in the event something doesn't go as expected, or isn't what it appeared to be.
The Agreement of Purchase and Sale is a legally binding contract. Real estate law is complex. Read and understand (don't be afraid to ask questions for clarification) before you sign.
Now that you've finished this report, it's time to go out and find the home of your dreams.
Make sure you cover all the steps in this report in the proper order.
See a mortgage broker or lender first. They will help you decide how much mortgage you qualify for.
Second, find a good agent to work with. If you don't have one, ask your friends and work associates for a referral.
If you have any questions, please feel free to contact us at 613-226-3018 anytime. There's no obligation.
Best wishes in your home search!